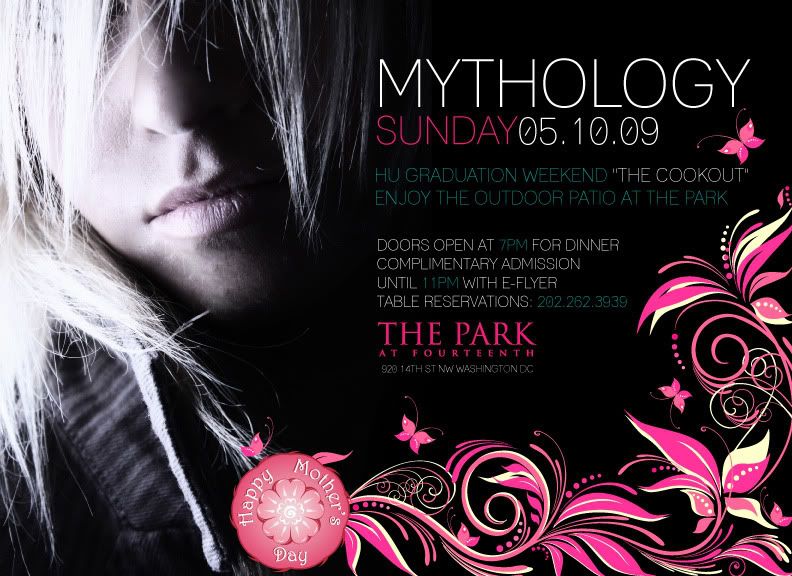 MYTHOLOGY : Beautiful Weather * Beautiful People * Be There

Dinner 6p to 10p • Dance until 2am
* Enjoy the new outdoor patio with a full service bar and a cookout feel from 7p to 10p *
Urban Legends. Culture. Truth. Humanity. The Supernatural.
What do you believe in? Do you believe that you deserve the best life has to offer?
The mythologies of most cultures are ruled by characters who ascend to greatness
and eventually transcend time. They are beautiful, they command respect, they
embrace life. They become legends... stories... mythology.

Join Rashad Jenkins & The IDC GROUP as we embrace a future based largely on the truth
that you should always be there, you should always be beautiful, and you deserve to be seen.
2. Please include full names & email addresses of all your guests.
Incomplete RSVPs will not be honored.
w. Rashad Jenkins - Marc Barnes - Taz Wube - BJ White - Everett - Danny Davis -Nate Enzo
Mitch Mathis - Ricardo Alejandro - TeamBBC
w. Mythology @ The Park | Always Be Beautiful
w. Sunday May 10th • 6pm - 2:00am
w. The Park at Fourteenth | 920 14th Street NW WDC
Please consider bottle service and early arrival as a means to guarantee a great experience.
For bottle service please contact
202.262.3939
or
bottleservice@park14.com
.