You're cordially invited to:
Reserve Wednesdays: New Upscale Event

Wednesday Oct. 14th, 2009
Admittance is granted with invite only...
The Reserve Wine Bar & Lounge | 1426 L St. NW
 Master of Ceremonies: Rashad 'Ra-Ra' Jenkins

PRIVATE EVENT * RESERVATION ONLY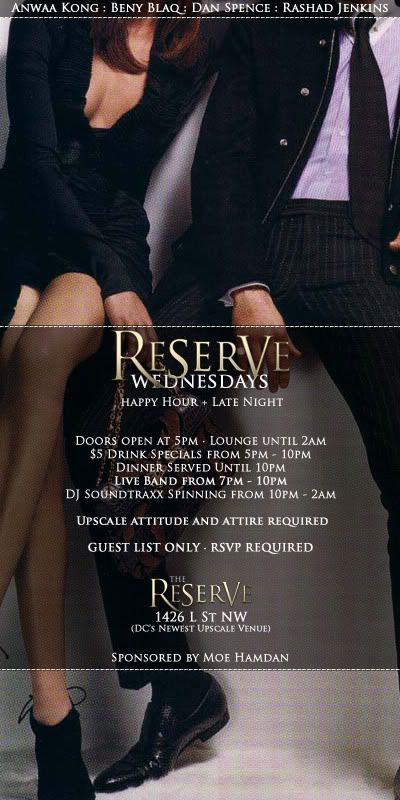 You will be placed on the invitation "Will Call"  list to receive your invitation from The Reserve (1426 L St. NW DC)  at the door the evening of the event. 

"Will Call" grants complimentary access all night. No access will be permitted without reservation.
Miss the "classic lounge?" A cozy intimate atmosphere where you can enjoy the company of beautiful people, adult conversation over cocktails, decadent meals, and great music? 

The Reserve, a modern wine bar and lounge, is the newest addition to the 
D.C. nightlife. With three floors of contemporary lounge space, which boasts 
mahogany hardwood floors, exposed finished brick, and marble table tops, 
The Reserve will bring back the ultimate lounge experience D.C. has been missing. 

  "Reserve Wednesdays" is a weekly upscale
entertainment experience. Every Wednesday, enjoy a rotating live band, $5 drink specials and a menu of scintillating modern tapas prepared by Belgian culinary master and Executive Chef Federik de Pue, for happy hour from 5pm - 10pm hosted by Beny Blaq Entertainment.
Commencing at 10pm 
Anwaa Kong, Dan Spence
, 
Rashad Jenkins & LIFESTYLEENT.COM
 host an experience like no other with 
DJ SoundTraxx
 who is guaranteed to keep you moving from 10pm - 2am.  Reserve Wednesdays is sponsored by 
Moe Hamdan.
GUEST LIST ONLY * RSVP REQUIRED
Doors open at 5pm Lounge until 2am
$5 Drink Specials from 7pm - 10pm * Dinner Served Until 10pm
Live Band from 7pm - 10pm * DJ SoundTraxx Spinning from 10pm - 2am