Lux Saturday | 5.30.09 - Dear Summer:

The newest venue of its kind to open in the revitalized East End, Lux is a stunning four level lounge and event space with a passion for guest service. Warm mahogany wood walls, candle-lit nooks, and plush décor fused together to create the perfect place for a sophisticated night of lounging and dancing. Upon arrival, you will be welcomed by elegant interiors with dynamic soft lighting effects, multiple plasma displays, fine marble bars, dramatic eighteen-foot ceilings, and polished touches that meet their highest expectations. Lux's design allows for a feeling of comfortable spaciousness when crowded without losing the feel of intimacy during quieter times. The IDC Group returns you to the nights of the VIP Club with the emergence of Lux Lounge.
Live Radio broadcast with 93.9 WKYS featuring Jeannie Jones, Dj Iran, Dj Analyze, and Dj Gemini. Welcome to
Lux Lounge
, the Pinnacle of Saturday nights.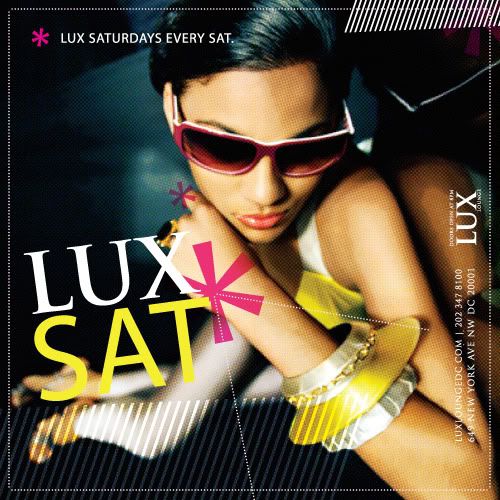 Make your Reservation for this Saturday's Guestlist:
RSVP for membership and complimentary VIP admission before 11pm.
Email
lux@raraandscotty.com
by 6pm Saturday, May 30th.
Include an email address for each guest on your reservation.
or
RSVP: IDC GROUP Digital Guest-list for the New Lux Lounge:
Text the word
LUX
VIP to: 25827 (CLUBS)
to be added to the
VIP Digital Guest-list for complimentary admission before 11:00pm.
You will receive a text message pass to your cell phone to show at the door.

Consider bottle service as a means to guarantee an incredible experience. If you prefer an exciting club experience, choose a table by the dance floor. For a more relaxed, private setting, get comfortable in our private VIP areas offering a complete view of that floor. Our dedication to you and our attention to every detail is what you can expect when you patronize Lux. For table and bottle service call (202) 294-4654 or email
bottleservice@raraandscotty.com